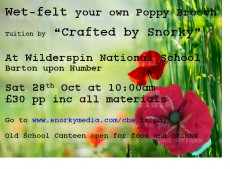 "Crafted by Snorky" is returning to lead you step by step to create a hand-felted poppy.
The session is on Saturday 28th October, 10am to 1pm.
Both take place in the Varah Room in the Aelberry Building with good car parking immediately outside.
Click on What's On – Courses, for full details of each workshop.