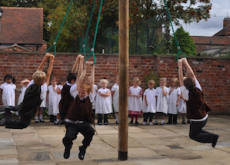 Our 60,000th visitor came to the museum during the year!
Over 12,000 people visited last year, including around 2,500 using our new cafe which is proving very popular.
This was the highest number of visitors we've had since our launch in 2009.  We have welcomed almost 70,000 visitors since our launch in 2009.  Including school pupils visiting with their schools, over 25% have been children.
Almost 3,500 children and adults visited as part of a school visit or group tour.
Since 2009, an additional 55,000 people have taken part in activities that use our premises for courses, meetings and community activities.  As well as the museum we have rooms that can be hired or rented on a long term commercial basis.