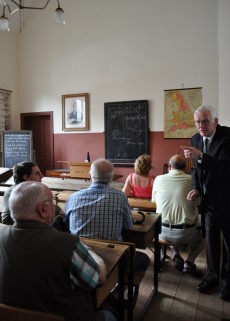 Members of Hull U3A began their visit began in the Primitive Methodist Chapel (1867) before a conducted tour of the Infant School and Playground (1845), just in time for lessons and reminiscences in the Classroom – before a splendid buffet lunch in the 1960s Classroom.
The Museum is a popular venue for group visits – their length varies but typically last two to three hours depending on whether it involves lunch or afternoon tea.  The guide tour takes about one hour – and you can include a short "lesson" in the Victorian Classroom, or you can have an object quiz to test who's been listening attentively during the tour!
The tour costs £3.50 per person.  Refreshment costs vary from tea / coffee & biscuits (£1 per person) to a sandwich buffet – our cafe will negotiate a price with you for this.
There's plenty of seating around the Museum if members of your group have restricted mobility – it's all on the ground floor with wheelchair access and a wheelchair accessible toilet.  There's good car parking too and coaches can easily drop off outside the School.
Some groups visit other places of interest in the town nearby  and make a day of it.
Everyone enjoys reminiscing and sharing memories of school and childhood – and go away smiling!