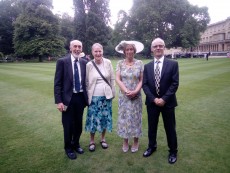 Our volunteers have had their efforts recognised by the Queen.  The Queen Street School Preservation Trust, which runs the school is one of just three voluntary groups in Lincolnshire to receive a Queen's Award for Voluntary Service (QAVS), the MBE for volunteer groups.
Tracey Crouch, Minister for Sport and Civil Society, said: "Everyone who has received this award should be incredibly proud. Their service, commitment and care have a profoundly positive impact on communities throughout the country and I am delighted they have been recognised with this prestigious award."
The Trust's award is for saving and restoring Samuel Wilderspin's Model Infant School and providing museum and educational services.  The school was opened in 1845 and today is a Grade II* listed building as it is a rare survival of a Wilderspin School.  Help from the Heritage Lottery Fund and English Heritage enabled the Trust to restore the school, and Lottery funding has helped subsequent education and volunteer-led projects.
Representatives of the Trust attended the Royal Garden Party at Buckingham Palace last week with other recipients.  A record 250 voluntary groups from across the UK received the award for their work in their communities.  Two of our volunteers, Peter and Janet Smurthwaite are pictured, with our Development Officer & Volunteer, Ian Wolseley, and his wife Julie.
John Walker, who has been Chair of the Trust for ten years and knows how much work has been done by its volunteers, said: "We are absolutely thrilled to have our efforts recognised in this way.   For over twenty five years volunteers have worked hard to save and restore the derelict school building.  Many people have been involved along the way, giving freely of their time doing a vast range of jobs which now concentrate on running the site as a museum and a community venue used by lots of organisations running courses and meetings.  "This is on ongoing challenge," Mr. Walker continued, "We have lots of roles both front of house and behind the scenes for new volunteers.  It's a great way to meet new people and feel part of a team and a project no matter how much time you are able to give."
Since opening as a museum in 2009 volunteers have welcomed 85,000 visitors, and an additional 40,000 people have used its meeting and conference facilities.  The museum has run around 700 sessions with visiting school groups involving 22,000 pupils, and the quality of its education programme has earned a Sandford Award for Heritage Education.
The QAVS Independent Committee Chair, former broadcast journalist Sir Martyn Lewis said: "The recipients of the Queen's Award are at the very top of a formidable volunteering movement in the UK involving millions of our citizens, and going from strength to strength."
More help is always required in the museum and the Joseph Wright Hall, and if you'd like to get involved and join the Trust's award winning team you can call (01652) 635172, email wilderspinschoolmuseum@gmail.com or just call in when the museum is open, Thursday – Sunday between 10am and 4pm.
More details are available from:
#QAVS2018 hashtag
@QueensAwardVS