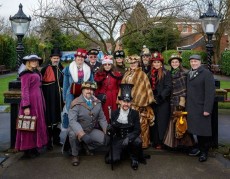 If you've never experienced a steampunk festival before be sure to try it at the School on Sunday 17 March.
And if you have, you'll know what's in store:- drama, spectacle and futuristic costumes.
Hull Steampunk Rebels present Lady Clara's Steampunk Sitching and Associated Arts in Barton.
Besides tea and parasol duelling there will be craftmakers demonstrating dressmaking, hats, jewellery, foam craft, gadgets, gizmos and more!
Whether you are already Steampunked or just Steam Curious, there will be  something for you!