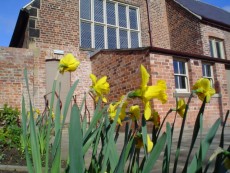 We've been working on the first part of our spring changes. The entrance and shop has changed to make the  space as welcoming as possible, and flexible too so we can use it for a variety of things.
You'll notice we have reduced the size of the Shop to concentrate on better selling items, and we'll shortly be introducing a family sitting area to try out toys and enjoy refreshments.
The spring flowers are adding a fantastic array of colour thanks tot he ongoing work of our gardening volunteers.