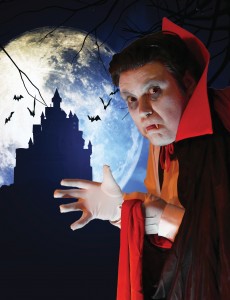 Celebrate Halloween at Wilderspin this year!
A haunting, paranormal force has gripped the town.  The young Lucy Westenra is taken ill and psychiatrist Dr. Seward calls on his mentor Professor Van Helsing to advise.  The Professor has a perplexing diagnosis – Lucy carries all the symptoms of a vampire's latest victim.
So begins a frenzied stab at trying to uncloak Count Dracula as the vampire in their midst. Sadly, it gets quite "midsty" in Whitby at times…
Bram Stoker's immortal horror story is given an affectionate lampooning in this physical, riotous comedy. Now, it is truly horrific.
Joseph Wright Hall – The Trust is currently seeking funding to upgrade access in the Hall.  This performance is on the first floor – access is by stairs and stair lift only.  Ground floor toilets with wheelchair access.
£8 / £28 (group of 4).  To book – telephone Hambledon Productions (01472 870935) or call in / telephone the museum on 01652 63517