Two centuries ago England's first Infant School was opened in Westminster. Samuel Wilderspin was then asked to run England's second Infant School which opened in 1820 at Spitalfields.
In 1847, supporters of Wilderspin, including philanthropists Mary and David Gaskell of Wakefield, and Thomas Terrington, Secretary of the Hull Infant School Society, commissioned J. R. Herbert, R. A. (1810 – 1890) to paint Wilderspin's portrait at the end of his career,
The original painting was given to Wilderspin at a special presentation attended by Charles Dickens.  Engraved copies were sold to benefit the a National Tribute fund for Wilderspin.
To commemorate Wilderspin's involvement in both schools we invited members of Barton and Brigg art groups run by JD Creative to submit oil paintings based on the original portrait by J. R. Herbert and the engraving.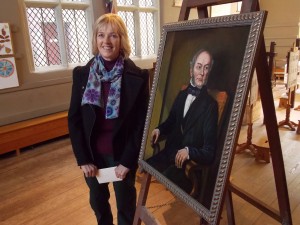 The winner was Julia Julia Sweetman seen here with her winning portrait receiving the prize from Ian Wolseley on behalf of the Queen Street School Preservation Trust, and Jon Dent of JD Creative.