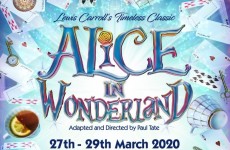 Friends at Barton have had to cancel their show ALICE IN WONDERLAND scheduled for later in the month.
This is obviously due to the current virus situation.
And it was going to be terrific – the set looks fantastic!  Our thoughts are with all the cast and crew who will be gutted after all their hard work!
REFUNDS can be arranged for the time being at the Wilderspin School Museum, Thursday – Sunday, 10-4.
These times may change – we'll update this page if they do.  You can also phone us on (01652) 635172 to discuss alternative arrangements.
Thank you to supporters who have kindly donated some or all of their purchase to the Queen Street School Preservation Trust as a contribution towards our restoration of the former chapel.