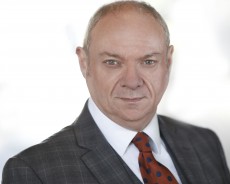 Plans for developing a community theatre venue in Barton have been bolstered by the appointment of West End actor and director Paul Tate as Artistic Director for the Queen Street School Preservation Trust. Paul's expertise in the arts, stretching over 35 years, will help the Trust shape plans for the Joseph Wright Hall, part of the Wilderspin School Museum on Queen Street, as it emerges as an arts centre in the town.
Paul is a local boy – he grew up in Barton and still has family living in the town. His visits back to his roots have become more frequent of late; he created
Friends At Barton
in 2016 and since then has written and produced two sell-out shows specially for the venue. The first was A Christmas Carol in 2016, and then The Snow Queen the following year.
Paul has been working with Friends at Barton on their latest production, Alice in Wonderland, which had to be postponed until the current virus crisis passes. "This latest production," Paul says, "is another link between the Victorian building and novels of the period." He is now writing his next show, Pinocchio, for 2021 and is also contemplating a production of Wuthering Heights for the future