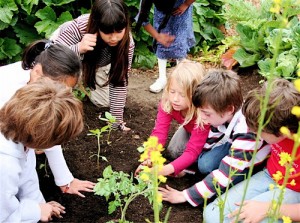 DECEMBER 2015
After a cold spring, the weather turned wet and cold followed by sun and then back to wet and cold. Some plants flowered later than usual, but the mild autumn weather has prolonged the flowering season. The wet weather was liked by some plants – weeds – constant weeding was required – not our favourite job. How is it that we get grass flourishing when we have no lawns?
The Car Park Beds
Our own compost and a load of top soil were spread on the bed nearest the road to enrich the light soil. Last autumn it was in this bed that we grew a new variety of Dahlia – a non flowering variety – and so it was decided to remove all the tubers and plant perennials. The new plants will spread and fill in the gaps hopefully smothering weeds.
The pear tree bed has always looked spectacular in early summer with the large ornamental red Poppies and rich blue Geraniums taking centre stage. A small problem in this bed is a clump of bindweed. We keep it under control by pulling out the new shoots as they appear. This should weaken the plant and hopefully it will die. We have removed the Innula seedlings and planted new perennials. The Innula has huge leaves which bury surrounding plants, so we have just kept one plant. The purple Irises at the back of this border have been divided into two clumps and the surplus rhizomes have been potted up for sale. In between the Irises we have planted Billy Button Daisies and Wallflowers.
The small bed near the annex basically takes care of itself. We only get time to periodically weed it and pull out plants which are surplus to requirement. The orange Chinese Lanterns at this time of year add a splash of colour, but do have roots like bindweed which we try to keep in check.
THE PLAYGROUND GARDEN
This year we have helped the Outreach Group from Scunthorpe who maintain the North East corner of the playground, by removing some of the ground cover plants which were trying to take over. The pink Moss Rose was sending up a mass of suckers so we reluctantly decided to remove it. A disaster happened in this corner when the main branch of the apple tree snapped off. We had not realised that it was staked with a band which had cut into the trunk, a shrub hiding it from view. Perhaps we need to replace this tree next year.
The perennial Sweet Pea planted in 2012 to grow up the obelisk was ousted. Instead of being a deep rich pink as shown on the label it was an insipid pale pink. It was vigorous in growth but had few flowers. The obelisk has been moved to where there is a white Jasmine growing. Before the Sweet Pea we had tried growing a Clematis but this too was not a success. Maybe it will be third time lucky.
This autumn we have been able to pot up some perennials from the garden for sale on the plant table.
Looking back over what had been previously written we find that we have not planted any Hidcote Lavender nor climbing roses though I am not sure whether these were suggestions of Sue Hoy. It was also stated that we had lost some shrubs and perennials one winter. It might be interesting to take stock the remaining plants and shrubs then we can see what has died and also refresh our memory of plant names. Personally I find as I get older I cannot remember such things easily.
We appreciate the Unseen Gardener who comes to prune the apple trees trained against the wall. They are looking much better.
At the end of November it was thought we had put the garden to bed for the winter – no need to come until spring. Alas no! One keen member of the team said he had been looking around and that there was still some tidying up to be done. Ah well – that is gardening for you – for ever evolving, for ever changing and never ending but very rewarding to see the results and hear the comments of visitors.
Hopefully somebody might like to join our friendly gardening team. We meet once or twice a month for a couple of hours ending with a well earned cuppa.