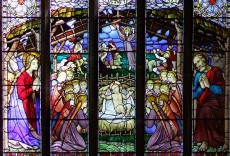 The New County Choir return to the Joseph Wright Hall with their performance of The Infancy of Christ, a Christmas cantata, by Douglas Coombes.
7.30pm
Tickets (£6) can be bought on the door.
There will be refreshments on sale after the concert.
Please note: we only have stair access to the first floor auditorium – but there is also a stair lift if required.
Image: Westminster Window By Hystfield – Own work, CC BY-SA 3.0, https://commons.wikimedia.org/w/index.php?curid=23413742