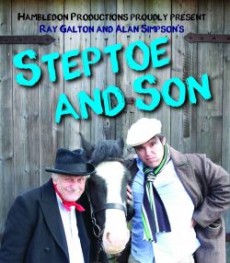 Fifty-five years ago Albert and his son Harold, the two warring rag-and-bone-men in Shepherd's Bush, first appeared on our TV screens. Now, as part of a nationwide tour, Hambledon Productions breathe life back into the Steptoe household with this faithful, fresh and hilarious adaptation of original episodes from the long-running smash hit sitcom.
For one night only: 7.30pm on Tuesday 17th April in the Joseph Wright Hall. (For the time being we regret there is stepped access only to first floor auditorium).
Tickets: £8 in advance or £10 otd, available online at hambledonproductions.com and from Wilderspin (Thursday – Sunday 10am – 4pm) or by 'phone (01652) 635172. Seating is unallocated.