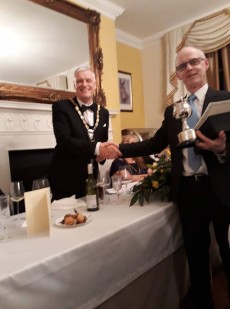 Ian Wolseley, our part time Development Officer, has had his voluntary efforts for the School formally recognised by Barton Town Council.
The 2018 Annual Town Award was presented to Ian at the Town Council's Civic Dinner which was held at Bardney Hall on Saturday 21 April.
The Mayor of Barton, Cllr Nigel Pinchbeck, presented the award which is in recognition of a volunteer who makes and outstanding contribution to the life of the Town.
Ian's involvement with Trust goes back to the early 1990s.  He was a member of the working party which secured additional funding and prepared the plans for building work to start.  The Museum opened in 2009, just over thirty years since the Barton Church School closed.
Ian said, "I am thrilled and honoured to receive the award which is a recognition of the work that goes into a project like this, not just by me but by the forty or so other volunteers who help manage and run the Museum."
Having worked for the Trust initially in a full time paid role thanks to grant funding, Ian's own contribution over recent years has been largely in a voluntary capacity.
"We are approaching the Museum's tenth anniversary," Ian continued, "but we are not resting on our laurels – we have our work cut out having taken on restoration of the adjacent chapel building to create a new performance space,  the Joseph Wright Hall."