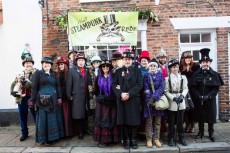 Hull Steampunk Rebels present Lady Clara's Steampunk Sitching and Associated Arts
Be inspired by Steampunk Crafters: Dressmaking, Hats, Jewellery, Foam Craft, Gadgets, Gizmos and more!
Try your hand at Tea Duelling with our Tiffin Master
Parasol Duelling for the adventurous!
Whether you are already Steampunked or just Steam Curious, there will be  something for you!
From 10am