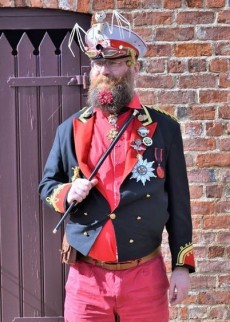 Hull Steampunk Rebels return to the unique backdrop of this unique school in the centre of historic Barton.  What a spectacle last time!  The School was buzzing and this time will be even better with Steampunk makers and traders of costume, gadgets and jewellery.  Check out Steampunk board games and watch shows of parasol duelling and combat waltzing.
Bring your own vehicle for the Tea Pot Racer Grand Prix or clothes , hats and accessories you've made from repurposed materials to enter in the Upcycle Fashion Show.
Whether you're a seasoned Steampunk enthusiast or just Steampunk curious – come along and see what it's all about – we'll have plenty of seating for you to sit and watch the show.  Refreshments on sale throughout the day in the Old School Canteen.
10am – 4pm – and admission is free!
Photo: Mick's Photographs @ Portraits41150