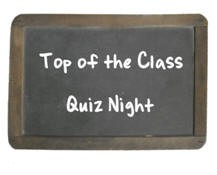 Teams of up to six can be booked now – but don't let that put you off: everyone can be slotted-in if you're not part of a "ready-made" team.
£2 per person.
Doors open at 6.45pm for heads down at 7pm.
Bar.
Please note – the quiz was originally scheduled for Friday 4 November but has been brought forward to Thursday 3 November.