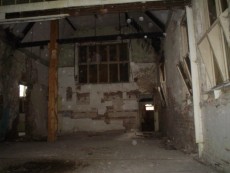 It's thirty years since the Trust, which saved the School from demolition, was set up.  Three decades on, the School is recognised as one of England's most important schools.  It's a significant part of British education history.
Barton Civic Society was at the forefront of saving the building and recognising its historical significance.  Saving the School was one of its early missions.  The other was to restore Barton Beck. 
Participants in those first campaigns return to see how their efforts worked out.  Join them for a quick look at the Beck (10am) before moving on to the Church School at 10.30am.  The Beck is five-minutes walk from the Wilderspin School Museum where there is ample car parking – and The Old School Canteen coffee shop for post-walk refreshment!
Saturday 4 March
Free – donations to help the work of the Civic Society and Queen Street School Preservation Trust are welcome.