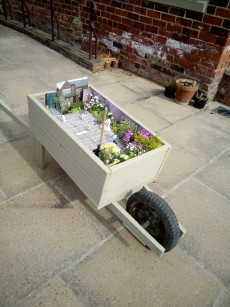 We've been having fun creating Mr. Wilderspin's Playground in miniature – in a wheelbarrow!
Children aged 5-13 can explore Mr. Wilderspin's Garden then make something for their own garden to take home – and enter something in this year's Barton Annual Horticultural Show on 10 August at Trinity Church.
These led sessions are every Thursday from 25 July, between 2pm and 3pm.
£4 per single session or £3.50 per multiple sessions.
Children under 8 must be accompanied by an adult.
Tel (01652) 635172 to book.
Pretty Pleasing Plants
Thursdays 25 July & 15 August, 2 – 3pm, please book
Use plants to make something for your own garden and take home a plant to care for at home
Birds and Bugs
Thursdays 1 & 22 August, 2 – 3pm, please book
Choose something to make for you own garden to look after the birds and insects
Mini Gardening
Thursdays 8 & 29 August, 2 – 3pm, please book
Make a miniature garden and take home a miniature plant