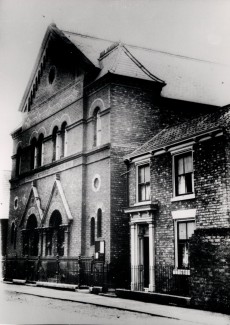 Opened in 1867, the Chapel was designed by Joseph Wright of Hull (1818–85), and is one of his most impressive buildings.  It is among the last surviving examples of his work and is one of the fine Victorian public buildings in the town centre.
Having saved public access to this this grade II listed building, the Trust is now poised to restore the historic fabric, bring its visitor facilities into the twenty first century and integrate it as part of the Museum.
The original raked pews, ornate plasterwork and recessed organ arch remain, creating a natural theatre and a unique setting.  Space on the ground floor is plentiful but requires modernisation having been remodelled in the 1960s.
Click below for a brief biography of Joseph Wright
Click below for a list of other chapels designed by Joseph Wright 
The Past
The huge and ornate chapel was Barton's third Primitive Methodist chapel and had seating for 600 people.
It ceased to be used by the Methodists in 1961 and subsequently became the Salvation Army Citadel.  The interior of the main hall was substantially redesigned by the insertion of a floor at gallery level, the removal of the ground floor pews and alterations to the frontage.
Click below for more about the building's history 
The History of the Joseph Wright Hall
Primitive Methodism
The Primitive Methodists were a major offshoot of the principal stream of Methodism – the Wesleyan Methodists – in the nineteenth Century.
Click below for more about Barton's Methodist chapels  
Click below for an extract from our archive copy of "The Origin and History of the Primitive Methodist Church" by Kendall, H B, vol 2 (1905)  
The Origin and History of the Primitive Methodist Church
The Sunday Schoolroom
The original, enlarged Sunday Schoolroom at the rear still survives.
The Salvation Army also had a Sunday School, and many Bartonians continue to share their memories of this with us.
Click below for more about Sunday School history and Barton's Sunday schools 
Sunday Schools -origins in Britain and Barton
The Present
In 2014, with the support of North Lincolnshire Council, the Trust acquired the beautiful Primitive Methodist Chapel adjacent to the School.
The first-floor gallery has survived, creating a unique auditorium with a capacity of 220 for performing arts and lectures.  It has already proved successful with music, dance and drama groups.
On the ground floor, the former Sunday Schoolroom is now a multi-purpose space used for education and Museum events as well as for private hire.  A smaller room is used for arts and crafts activities.