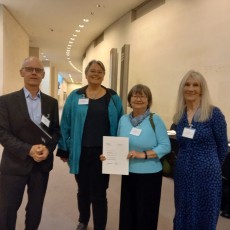 We are thrilled that our Memory Café Project, launched in 2022, has been awarded a Marsh Award for Museum Learning by the British Museum and the Marsh Charitable Trust.
Our volunteers piloted a selection of objects from our collection to see how they prompted discussion and recollections among older people.  Then, Memory Boxes were put together for museum visitors to chat about over a cup of tea, and they were used too with residents from a care home as part of an intergenerational session with children from a local school.
A Chatty Café team has taken the project forward organising monthly drop-ins focussing on a theme for discussion and reminiscence.
The 'Volunteers for Museum Learning' Award forms part of a programme of awards presented by the Marsh Charitable Trust in the fields of science, ecology, conservation, heritage, literature and volunteering.  The aim is to recognise those volunteers who engage directly with museum visitors in any capacity.
The Museum was the winner for the East Midlands region which involved some of our volunteers attending an award ceremony at the British Museum.
Although the Museum is closed over the winter period as an energy saving measure our volunteers will be organising Open Days during which the Chatty Café will be operating along with other special family activities – and we're putting together plans for special Chatty Café events over the winter.
Photo caption:
Wilderspin volunteers Ian Wolseley and (right) Jean Cannon and Rose Jackson with Project Coordinator Ali Bodley.