This huge and ornate Primitive Methodist Chapel was opened in 1867 and had seating for 600 people.
The Chapel was designed by Joseph Wright of Hull (1818 – 85), and was one of his most impressive buildings.
It is among the last surviving examples of his work.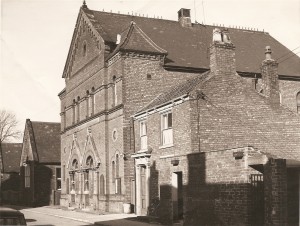 It ceased to be used by the Methodists in 1961 and subsequently became the Salvation Army Citadel.  The interior of the main hall was substantially redesigned by the insertion of a floor at gallery level, the removal of the ground floor pews and alterations to the frontage.  Most of the gallery, together with virtually all the beautiful windows and the plasterwork to the ceiling and organ chamber arch survive.
The Queen Street School Preservation Trust has plans to restore and reuse this Grade II listed building to create a community arts centre.