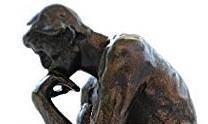 An eight week course with Dr. Mo Ille, starting on Monday 13 January.
Sculpture has existed since the Old Stone Age!  Tracing its developments through style, subject-matter and tecniques is a fascinating journey through time.
The sessions take place in the Aelberry Building (ground floor with car parking) between 1:30 – 3:30 pm.
Full course: £45
Come when you can: £6 per session
Booking & more details: drmo@ille.co.uk         (01724) 733067