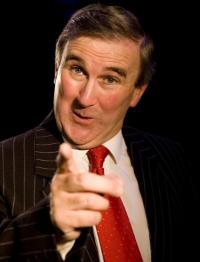 One of our Patrons, Gervase Phinn, returns with more hilarious anecdotes of life as a teacher and School Inspector.
It's on Friday 29th January 2016 at the Joseph Wright Hall, stating at 7.00pm at the School Museum for a welcoming drink before moving through to the Joseph Wright Hall next door.
Tickets are £16 in support of the work of the Trust and the Wilderspin Museum.  Light refreshments will be served on arrival and during the interval.  There will be an interval bar and book signing too.
Tickets are available from the Wilderspin School Museum (Thursday – Sunday 11am-3pm), from Smith & Walker Opticians – 16 High Street, and from Waters' Edge Tourist Information Centre (from 14 December).