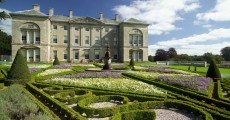 Visit East Yorkshire's "finest country house" at Sledmere, near Driffield, with Barton Civic Society and Wilderspin volunteers.  The trip includes a guided tour of the country house, with its beautiful walled garden.  Then, there will be time to see the rare breed farm park, explore the spacious grounds – ideal for a picnic, and visit the Wagoners' Museum which tells the story of the Wagoners' Special Reserve and their horse drawn supply wagons in the First World War.
Coach pick-up at 9.30am from the Wilderspin & National School Museum, Queen Street.  Arriving back in Barton by approximately 4.30 pm.
Cost per person £20.00 including travel, entry and tour fees.  Payment should be made in advance at the Wilderspin School Museum.
Call in at Wilderspin to book or ring (01652) 635172.